Cornwall Connected
On Radio Cornwall.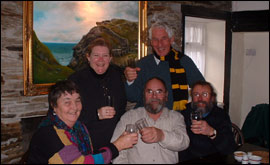 Photo by Chris Blount
Last Sunday Chris Blount, had "Canoryon Troon", a group who sing only traditional Cornish carols. He interviewed Dave Oates a member of the Cornish List in what was a very interesting item. He also broadcast an interview with Yvonne Bowers about how the list was started up.
So get connected and find out what happens Click here and go to the Radio Cornwall Site.