Tintagel Christmas 2002

A Collection of Bonnets
The Balmaidens photograph was taken on the occasion of a visit by journalists to the Dolcoath mine in the 1890's. the man in the white coat is the mine manager Mr Thomas.
Click on picture to see larger version,
photo's John Cole (JC)

Yvonne's Photo's
Virtual pictures of the virtual party.
Photo's donated by John White
Arthur & Lancelot Merlin Queuing to get in
Rush to the Bar Part of the Band Two of the Girls
7.

The dance is underway

The Masks of John White, Troon, Cornwall.

Views of castle and Village
1&8 GeorgeP, 2-7 Gloria Davis. Gloria and her son Alex are in Photo No 2 Her hubby took the Picture.

Views of the Church
Photos from 1936 Church Guide

Photo's of Glastonbury supposed Burial Place of Arther. by Hilary Scott


Over 100 Quarrymen from the Penlee Quarry, Newlyn near Penzance. were called upon to help rebuild the castle for the party
Well I can't get the stonemasons but here are over a hundred quarrymen to get the stone. The photograph was loaned to the Cornishmen by George Hoare of Penzance. Mr Hoare also put names to the faces and believes the picture was taken prior to the 1914 -18 war.
One ? denotes missing first name. Two ?? donates name not known.
Back Row L to R:- J Maddern, E Woolcock, C Lavers, Bill Bone, W Billington, T Corlin, Thomas (manager Nancledra), ? Wearne, ? Tripp, ? Bennetts, J Jelbert, W. H. Tonkin, J Reynolds, P. W. Harvey, Thomas S. Mildren, J Kilskey
Second Row L. to R:- R Richards, F. Rowe, A. Richardson, W. Trehair, T Williams, ?? F Carter, B. Sleeman, ??, J Caddy, C. Thomas, P. Curruthers, P Payne, F. Payne, F Sampson, ? Trehair, J Harvey, J. Hitchins.
Third Row L to R:- J. Thomas (Bap.), Bill Squires, A Stone, A Cloke, ? Potter, ? Sancom, R Wearne, F Dunn, ??, A Wearne, ??, E McClary, L Cloke, E Stone, T Barber, ??, ??, ??, ? Bell, A Lewis, T.W.Lewis.
Forth Row L to R:- S Cotton, J Johns, W White, Dai Owen, R Williams, Dick warren, C Harvey, C Gendall, J Bodinnar, R Stone, ? Sleeman, E Barnicoat, ??, W Richards, C Payne, W Payne.
Fifth Row L to R:- George Thomas, Albert Gendall, J Llewllyn, C Prowse, J Reynolds, A Jenkin, W H Gendall, P Gendall, J Daniel, W Pascoe, J Eddy, Jim Bone, T Floyd, Tom Pearce, J Sampson, J Perr, William Williams.
Sixth Row. L to R. J Rogers, G Glasson, Jack Mathews, ? Bartle, ? Rowe, F Jelbert, Willie Hitchens, R Gendall, J Rowe, M Jordon, R Maddern, George Green, F Maddern, J Jenkin, T Maddern, ??, T Trenoweth, J Sexton.
Front Row L to R. C Pearce, W Squires, Bert Gendall, C Weeks, B Triggs, W Maddern, R Pollard, Bill Tresidder, W. H. Richards, Dick Berryman.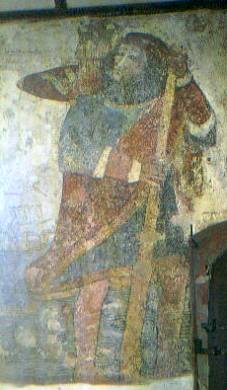 Medieval Wall Painting Breage Church
Photo by GP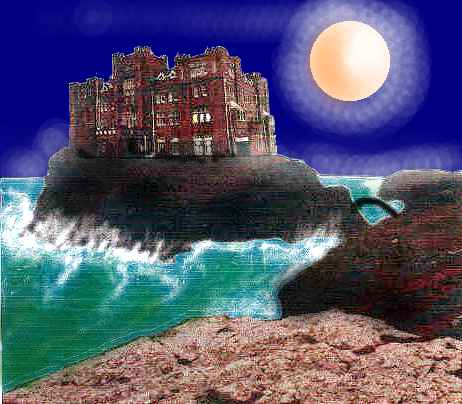 Artwork by JC
Oops, after re-building King Arthur's Castle, our Masons have moved and
rebuilt King Arthur's Castle Hotel on top of the Island. We're sure that our
party-goers will be wonderfully comfortable, but what will English Heritage
say when they find that we had to level of the top of the island (and grind
up all those boring old archeaological remains) to get a firm foundation?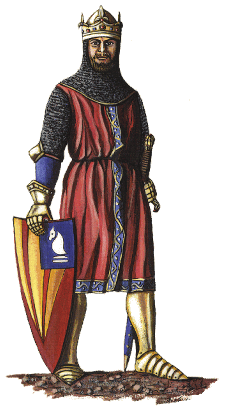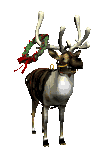 Any problems with this list please contact